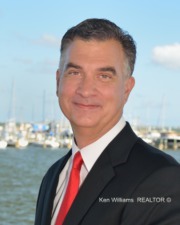 Buying or Selling a Home in Corpus Christi? Don't get Real Estate Phobia! Choosing the right Real Estate Agent can save you Time and Money. There are many fine Homes for Sale in the Corpus Christi and Port Aransas area. Don't fear the process. Let me help you with your Corpus Christi Real Estate needs.
    Corpus Christi is Ken's newly adopted home. He has been visiting the Corpus/Port Aransas area since he was 5 years old (that's a lot of years). Even though he was born and raised in the Texas Hill Country he likes to tell people that he grew up in Port Aransas..........one week a year. Now finally living in the area he loves so much, Ken greets each day with excitement, and tackles the world of Real Estate with enthusiasm.
    With more than 25 years experience as a business owner and 15 plus years as a counselor, Ken brings his business skills and knowledge of people to help his clients buy and sell Real Estate. When Ken is not busy selling homes you'll find him on the water in his kayak.